Kommetjie Weather Conditions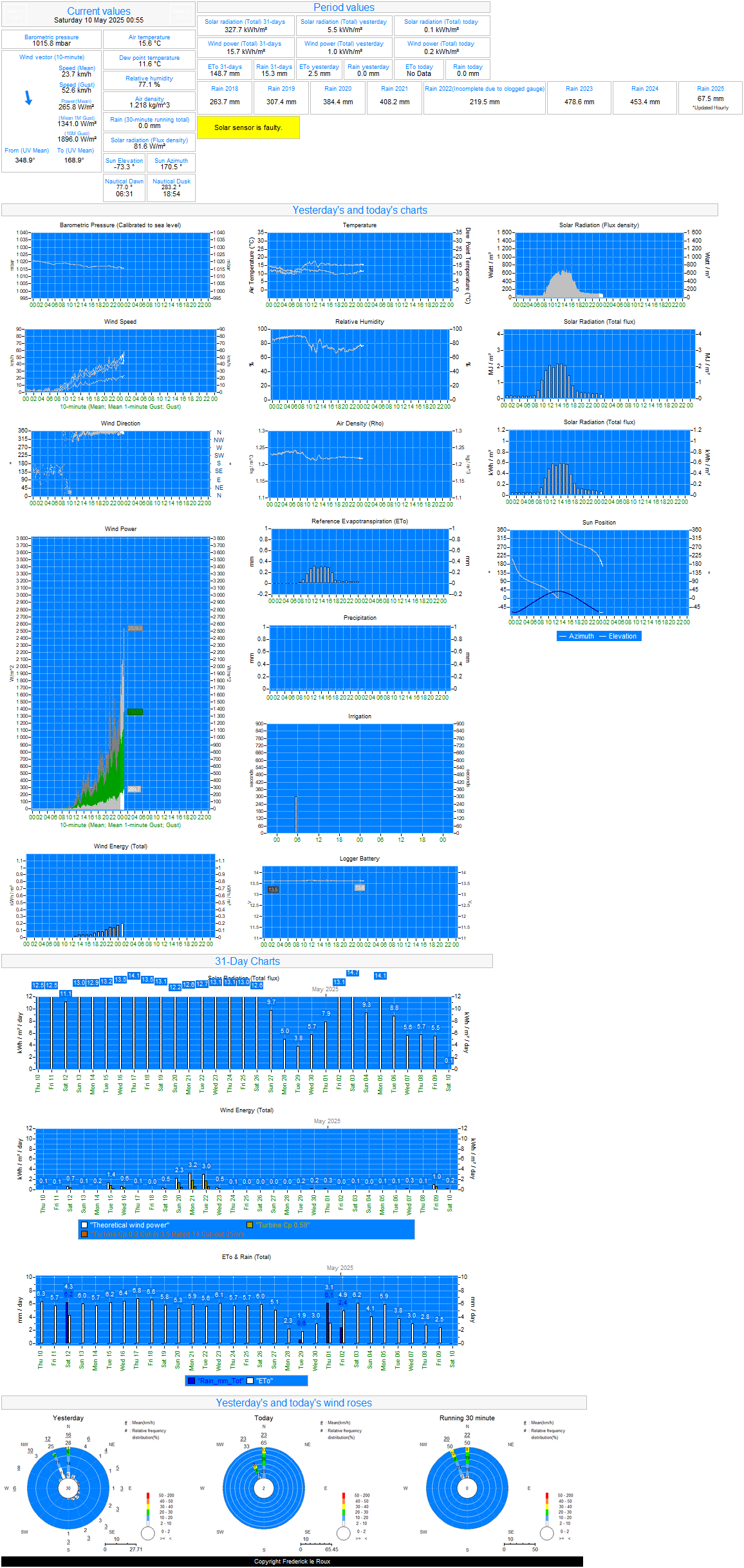 Weather Station Technical Description
*Location: Kommetjie, Cape Town, South Africa (Western Cape Peninsula). South 34°08.328' East 018°19.856'.
*Technical description :A calibrated solar powered automatic meteorological data collection platform with onboard measurement/control/processing and storage device,
radio telemetry, GPRS telemetry and direct RS232 connection. Mounted 9m above ground measuring wind speed, wind direction,
ambient temperature, barometric pressure (calibrated to sea level), solar radiation, rainfall and relative humidity; calculating dew point temperature and ETo.
*Scan interval: 1-second.
*Data output interval: 1-minute for weather data / 1-hour for ETo .
*Display screen update interval: 5-minute.
*Data upload: Pages are served. (unless network is down)
*Internet connection: ADSL Uncapped
*Instrumentation:
Campbell Scientific

CR300 DataLogger (Measurement/Control/Processing and Storage device) Weather and ETo Station, Barometric Pressure Sensor.

Another CR215 used for controlling irrigation valves based on the main CR300's ETo/Rain values.

R.M. Young
Model 04101 Wind Speed Wind Direction, Model 52203 Rain Gauge, Model EE180 Temperature Humidity, Model 61205V Barometric Pressure.
Li-cor
Model 70092 Solar Radiation.
Apogee
Solar Radiation.
*Software:
| | | | |
| --- | --- | --- | --- |
| | Campbell Scientific LoggerNet | | Data logger support software used for data logger communication, programming and data retrieval. |
| | WeatherQuery 4.5 - Build 20-02-2016 | | Graphical display designer (Plot charts, wind roses, labels and web cam photos. Serve web pages. Email reports/alarms.). |
Weather Station ChangeLog
Installed a new temp rh sensor due the high rh readings.
Moved everything to a new pc following a hard drive crash.
Changed sunrise/sunset to nautical dawn/dusk based on -12 degrees solar elevation
Added sunrise and sunset based on elevation = 0
Refurbished the Young windspeed and direction sensor. Added sun azimuth and elevation. Yearly rain updated hourly to reduce server overhead.
Made changes to the wind power graph and numeric labels(to align with speed graph/labels): 10-minute(mean;1-minute gust;gust)
Wind speed and direction sensor removed for servicing - temporary sensor is in place.
Added irrigation times. Calculated from (evapotranspiration - rain) * crop factor * valve flow factor.
Added air density to the wind power calculation.
Added wind power gust to the numeric labels. (based on the 10-minute gust)
Installed a new temp/rh sensor, model EE180
Transferred to a CR300 datalogger, Campbell Scientific's latest compact datalogger.
The old www.icon.co.za/~aleroux domain no longer exists due to changes by the provider. Page still available http://weatherafrica.dyndns.org:8091
Added some wind energy stats.
Created a list view of the main page to better display on a smart phone screen Mobile page list view Download size is around 190kB.
Visit the mobile page compact showing the wind direction, wind speed(avg/max) and air temperature for a 10-minute period. Download size is only 12kB for each refresh. No longer active. Once again active but in different format.
* The Wind Vane bearings need to be replaced, I will order some on Monday.
* Calibrated solar radiation and barometric pressure.
* Replaced wind speed bearings. (Age
8 years)
* OS / hard drive upgrade. Please note that the 7 and 30 days labels will be incomplete for the next 7 and 30 days respectively.
* New page layout. New CR215 datalogger. On mobile phones please use Opera Mini.
* Page update: Added a 7d Rain Label, 24h ETo Label, 7d ETo Label, 30d ETo Label .
* Page update: Added a 10-minute Gust label, 10-minute Rain label.
* Page update: Rearranged the wind rose value layout, added a legend.
* No Data condition: Fixed by installing a new rs232 card. The old usb->rs232 caused system crashes.
* So few updates: I've been busy doing (non-IT/outside in the sun) stuff in GP/NW for a change, only since 02/2008 back in front of the pc.
* A new year, a new page.
*Chart y-axis now scaled manually to predefined values.
*Wind speed converted from m/s to km/h.
*Barometric pressure calibrated to sea level.
*Implementing a new wind rose type - 16 wind direction sectors, 6 wind speed classes (class 1 = calm) 1-minute samples used.
Replaced relative humidity element (age 4 years).
Calibrated weather station.
*Calibrated weather station
*Calibrated weather station.
*Calibrated weather station.
* A new year, a new page.
*Calibrated Weather Station.
*Calibrated and logging via radio telemetry - storing two sets of data,
storing data onboard - downloading data e.g. daily/weekly/monthly --> write to pc,
also,
storing data real-time on pc-->plot graphs-->upload images to website-->confirm daily with SMS/EMail.
*Testing two new data loggers.
The system uses radio telemetry.
Calibrated weather station.
*Weather station installation
External Links

Copyright Frederick le Roux - WeatherQuery - Kommetjie Weather Station - Kommetjie Weerstasie.